"Go Fruit Yourself" Shirt from the Sassy Fruit People! If you haven't had enough raw food entertainment lately, I mean, who has.....gotta keep up with DurianRider & the David Wolfe Chronicles. And adding Characters daily!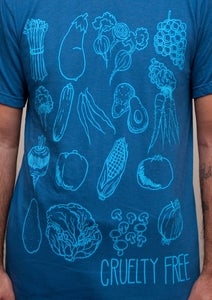 Cruelty Free Vegan Veggies Shirt from Compassion Company
This is a new design from Compassion Company. A pretty non-controversial yet darling way to spread your love of eggplants, cabbages, and more!
Sure Vegans love food, and animals, but we love tee's and sweats just as much! Comfy Clothes to wear about town and declare our "Veggie Vote". Here is just a sampling of some great Vegan Tee's that would work wonderfully as Holiday Gifts!
Hemp Cells Anyone? Love these Hemp Shirts from a small West Coast Company, Swirlspace.
The Hemp Cell Close Up. These are truly save the world shirts. Hemp could really save us, if we let it!!
And for the boys, Hemp Endosperms!
It's Holiday Season, right? So we can't leave Jesus out of it! Apparently Jesus is embracing Hemp as well. No pesticides. Super Durable. And we can eat it for our Omega 3's.
Another Swirlspace Print.
Bhakti Men's Hanuman Shirt
Let's not kid ourselves, right? Holidays are kind of about Spiritual Materialism.....So what better way to declare your "inner spiritualist" than by sportin' a Hanuman Shirt?
I am loving on Allen Ginsberg. Got Pretty bummed out when a homophobic neighbor of mine, once again tried to "convert" me. I guess the person I am "supposed" to become doesn't think Muslims, Hindus or Jews have any validity. Or any other forms of Christianity. My Vegan Brain is blown into smithereens when someone actually believes that only their small sect of a major religion has "the truth". Allen Ginsberg cheers me the fuck up. Oh, saw the video below posted on Facebook by Food Fight Grocery (they were posting out of shock I think!). Well......Allen has a response for that too!


Rick Perry. Saying it like only he can. I love him. I mean, who the fuck else can say, "I'm not ashamed to admit that I am a Christian".......but "Something wrong with this country when Gays can openly serve in the military". No Rick Perry, I personally don't believe you are a Christian if you have an issue with Gays losing their lives for you while not hiding their sexuality. That's my personal belief.......And it leads me to this.


Beware. Don't press "play" if you are easily offended. If you are and just can't help but press play anyway, then just get a gluten free vegan brownie to stuff in your mouth if it happens to hang open!
Just Remember, if you are vegan, those Hard-On's are a LOT easier to get AND keep!
And Yella, a dog that was rescued from East St. Louis, is going for his first Heartworm Treatment. He STILL doesn't have a foster or forever home so he is still at Pj's. Yella is the sweetest pup and has had a couple gunshot wounds in his day.
www.gatewaypets.com
Oh, and "The China Study" author had a baby. Named it Leanne Campbell Disla. And SHE wrote a COOKBOOK!
The Whole Plants Cookbook is Out!
Sweet & Sexy Posts........
I may be a Dirty Girl but I don't eat Poop! Fecal Free Pesto Kale Chips from "Everything Raw Book". Kale makes you Glow! Vitamin Vendetta? Do Vitamins increase your cancer risk?
*Jay Nixon has been Neutered. Bend over & ditch the KY, this is a Rough One. (Just in case you thought it was just Republicans & Tea Partiers that I vented about!)